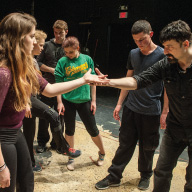 Drama Adaptations
THE ANNUNCIATION
April 14 and 15   7 pm
Callan Theatre
The Department of Drama at The Catholic University of America will present The Annunciation, a contemporary dramatization of the pageant from the Wakefield Corpus Christi Cycle, under the direction of Paata Tsikurishvili, the artistic director of Synetic Theatre. With an original score, poetic language, and powerful physical expression, this stylized production translates this ancient story for a modern audience.
The Corpus Christi plays were popular in the north of England from approximately 1378 to the end of the 16th century. A typical cycle included a series of plays that recounted sacred history as detailed in the Bible and other texts, usually extending from the Fall of Lucifer to the Last Judgment. The Annunciation tells the story of Gabriel's visit to Mary, in which he reveals that she will conceive a son who is "both God and man." Through this story, the play grapples with humanity, divinity, doubt, and faith.
This production at CUA complements the exhibit Picturing Mary: Woman, Mother, Idea, now showing at the National Museum of Women in the Art.
Also be sure to check out the Drama Adaptations Blog: Adapting Mary >