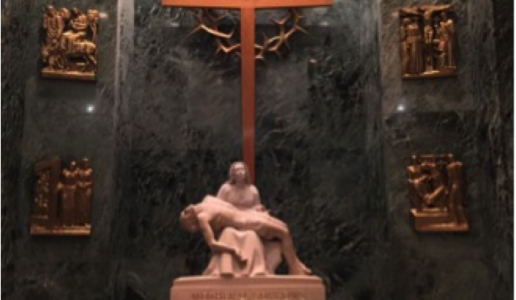 Mother of Sorrows Chapel
Basilica of the National Shrine of the Immaculate Conception
Location: 400 Michigan Ave NE, Washington D.C. 20017
Metro: Red line to Brookland/CUA; the Basilica also has free parking.
The following is a prayer that a pilgrim could pray that is displayed on a kneeler in the chapel:
Father,
as your Son was raised on the cross,
His Mother Mary stood by Him,
sharing his suffering.
May she, who is also our spiritual Mother
and Patroness in heaven,
help us to find renewed strength
at the Cross of Christ
and so to come to share
in His rising
to new life,
where He lives and reigns with you
and the Holy Spirit,
one God forever and ever.
Amen.
The Mother of Sorrows Chapel is located within the Basilica of the National Shrine of the Immaculate Conception in the Upper Church. This chapel depicts the Seven Sorrows of Mary (See fig. 1). Archbishop Egidio Vagnozzi, Apostolic Delegate to the United States, dedicated the chapel on September 5, 1965. It was the gift of the Catholic Slovak Union of the United States of America and Canada (JEDNOTA). Bishop Joseph V. Adamec of Altoona-Johnstown, episcopal moderator of JEDNOTA, and Theodore Cardinal McCarrick of Washington re-dedicated the chapel on September 6, 2003, following months of refurbishing. In 1966, the National Sculpture Society awarded the architects and artists of this chapel the Henry Herring Medal.1 Monsignor Rossi, Basilica of the National Shrine of the Immaculate Conception: Guide and Tour Book, 112.
Mother of Sorrows, or Our Lady of Sorrows, is a title by which Mary is associated with the sorrows of her life, a popular theme in Catholic devotion. The feast of Our Lady of Sorrows was established by the provincial synod of Cologne in 1423.2 Frederick Holweck. "Feasts of the Seven Sorrows of the Blessed Virgin Mary," The Catholic Encyclopedia. Vol. 14. New York: Robert Appleton Company, 1912. 23 Nov. 2014, http://www.newadvent.org/cathen/14151b.htm.Earlier in 1233 in Monte Senario, Italy, the Servite Friars had established the Sorrows of Mary as the principal devotion of their order.3 Ibid.As more devotional prayers began, the Sorrows of Mary were elaborated based on the prophecy of Simeon (the First Sorrow). Our Lady of Sorrows is also the patron of Slovakia, which is why this chapel was dedicated by the Slovak Union. In religious art, she is often depicted as sorrowful or in lacrimation, with seven daggers piercing her heart.4 Ibid.
The Pietà by Ernest E. Morenon, a French artist, dominates this chapel (See figure 2). This life-sized work is sculptured in Trani marble. The Pietà is a common subject in Christian art, which depicts Mary holding the dead body of Jesus. This Pietà rests on a marble pedestal with an inscription that reads "Mother of Sorrows, Pray for Us." Behind the Pietà is a wooden cross about three times the size of the sculpture, with a bronze crown of thorns behind its center.
Ornamenting the front of the marble altar is a roundel symbolizing the Seven Sorrows by an engraved heart being pierced by seven swords. Bishop Andrew G. Grutka of Gary, Indiana consecrated the altar September 4, 1965.5 Ibid.Above the altar inscribed in Slovak is the prayer, "Our Mother of Sorrows, Virgin Mary, Patroness of the Slovak People, Pray for Us." Also above the altar is the following prayer: "Grant O Mother, Source of Love, that I may feel your depth of grief. Make me mourn with you."
To the left and right of the Pietà are six scenes in bronze relief, sculpted by the artist Morenon and executed by Xavier Corbero of Barcelona, depicting the remaining sorrows of the Blessed Mother.6 Monsignor Rossi, Basilica of the National Shrine of the Immaculate Conception: Guide and Tour Book, 112.The following are the Seven Sorrows:
The prophecy of Simeon: "so that the thoughts of many hearts will be revealed. And a sword will pierce your own soul too" (Luke 2:35). The sculpture depicts Mary, accompanied by Joseph, presenting the child Jesus to the Prophet Simeon. Next to Simeon is the Prophetess Anna. The figures stand upon steps, which can be taken to represent the steps of the Temple. (Fig. 3)
The flight to Egypt: "When they had gone, an angel of the Lord appeared to Joseph in a dream. "Get up," he said, "take the child and his mother and escape to Egypt. Stay there until I tell you, for Herod is going to search for the child to kill him" (Matthew 2:13). Mary is shown riding on a donkey, cradling Jesus in her arms. Joseph leads the donkey while carrying a bundle of their possessions on his shoulders. There is a palm tree to the right of the Holy Family. (Fig. 4)
Finding Jesus in the Temple: "When his parents saw him, they were astonished. His mother said to him, 'Son, why have you treated us like this? Your father and I have been anxiously searching for you'" (Luke 2:48). Mary and Joseph are portrayed entering the Temple, once again represented by steps. They have worrisome looks on their faces, revealing that they have yet to find the child Jesus. Mary has one hand the temple door and the other on Joseph's arm, while he appears to be steadying her and searching for Jesus. On the other side of the doorframe are three men sitting on steps and intently listening to someone speak. Behind the figures is a seven-branched Menorah. (Fig. 5)
Mary meeting her Son carrying the cross: "Carrying his own cross, he went out to the place of the Skull (which in Aramaic is called Golgotha)" (John 19:17). In this sculpture Jesus is carrying the cross and buckling under its weight. Mary meets him and grasps the front of the cross with one hand, while caressing his face with the other. A soldier attempts to push her back with a rod. Two soldiers are depicted behind the cross, though the cross nearly hides them. (Fig. 6)
Mary at the foot of the Cross: "Near the cross of Jesus stood his mother, his mother's sister, Mary the wife of Clopas, and Mary Magdalene" (John 19:25). Jesus is portrayed hanging dead on a three-sided cross, with the crosses on which the other two crucified men hung visible under his arms. To the left of Jesus is Mary, who is depicted almost in a faint as either John the Beloved Apostle or Mary, wife of Clopas, supports her body. This second figure is mostly hidden behind that of Mary. To the right of Jesus, a woman, presumably Mary Magdalene, kneels at the foot of the cross. A male figure, either John the Beloved Disciple or Joseph of Arimathea, stands behind her in a prayerful pose. (Fig. 7)
The Pietà is the sixth sorrow; Mary receives the body of Jesus in her arms: "And when it was evening, there came a certain rich man of Arimathea, named Joseph, who also himself was a disciple of Jesus. He went to Pilate, and asked the body of Jesus. Then Pilate commanded that the body should be delivered. And Joseph taking the body, wrapped it up in a clean linen cloth" (Matthew 27:57-59). As previously mentioned, this sculpture depicts Mary holding the body of her dead son in her arms. Jesus's body is depicted lifeless as his head falls backward despite Mary's support, and his right arm falls to the ground across her legs. His left arm lies in her lap. Despite their lifeless nature, both of Christ's palms face upward resembling a gesture of prayer. Mary faces upward with a sorrowful, yet almost peaceful, expression on her face. (Fig. 2)
Mary buries her Son: "The women who had come with Jesus from Galilee followed Joseph and saw the tomb and how his body was laid in it" (Luke 23:55). This sculpture portrays the lifeless body of Jesus being laid in a sarcophagus. Mary holds the head of her son and gazes upon his face as Joseph of Arimathea and John lower the body. In the background, two of the three crosses are depicted. (Fig. 8)
| | | |
| --- | --- | --- |
| 1. | ⇧ | Monsignor Rossi, Basilica of the National Shrine of the Immaculate Conception: Guide and Tour Book, 112. |
| 2. | ⇧ | Frederick Holweck. "Feasts of the Seven Sorrows of the Blessed Virgin Mary," The Catholic Encyclopedia. Vol. 14. New York: Robert Appleton Company, 1912. 23 Nov. 2014, http://www.newadvent.org/cathen/14151b.htm. |
| 3. | ⇧ | Ibid. |
| 4. | ⇧ | Ibid. |
| 5. | ⇧ | Ibid. |
| 6. | ⇧ | Monsignor Rossi, Basilica of the National Shrine of the Immaculate Conception: Guide and Tour Book, 112. |